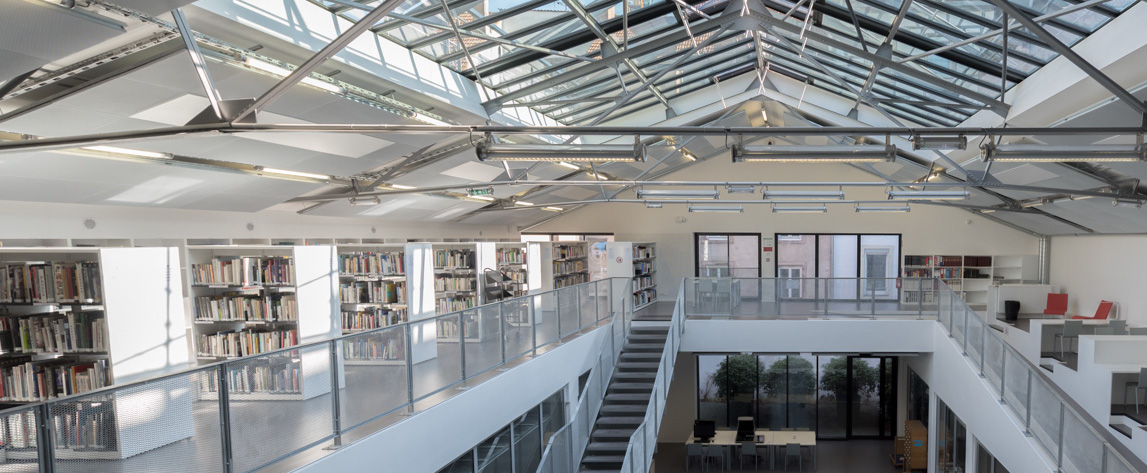 The ENSAS library offers documentary resources related to the fields of architecture, urban planning, construction, design, landscape and applied computer science, and arts and humanities. In addition to a large number of works - 1,550 old works (before 1920) and 14,000 modern works - the ENSAS library holds 344 titles of French and foreign periodicals, including 142 current subscriptions. It also offers 2,200 end-of-study projects and 1,500 master's theses by ENSAS students and has an audiovisual collection including 500 DVDs.
The library offers about a hundred work places. Three rooms can accommodate students wishing to work in groups. One room is reserved for teachers and researchers. The library is equipped with consultation stations and WIFI.
The library is primarily intended for students, teachers and researchers from ENSAS, UNISTRA, INSA and ENGEES, but also for external readers. 
Due to the association of ENSAS with the University of Strasbourg and an agreement with INSA, ENSAS students have access to the libraries of these institutions, as well as to the BNU.
In these times of pandemic,
the library is not accessible as freely as usual,
but it remains active and open!
Go to the dedicated library website (opposite)
to find out the specific access modalities
and why not find your resource online.
ENSAS also offers an audiovisual collection of photos, slides, videos, etc.
The collection regularly offers documentary screenings.