Workspaces and
educational resources 
ENSAS provides its community with learning spaces, study rooms and experimentation workshops, which it also opens to outside audiences as part of its policy of disseminating architectural culture and partnerships.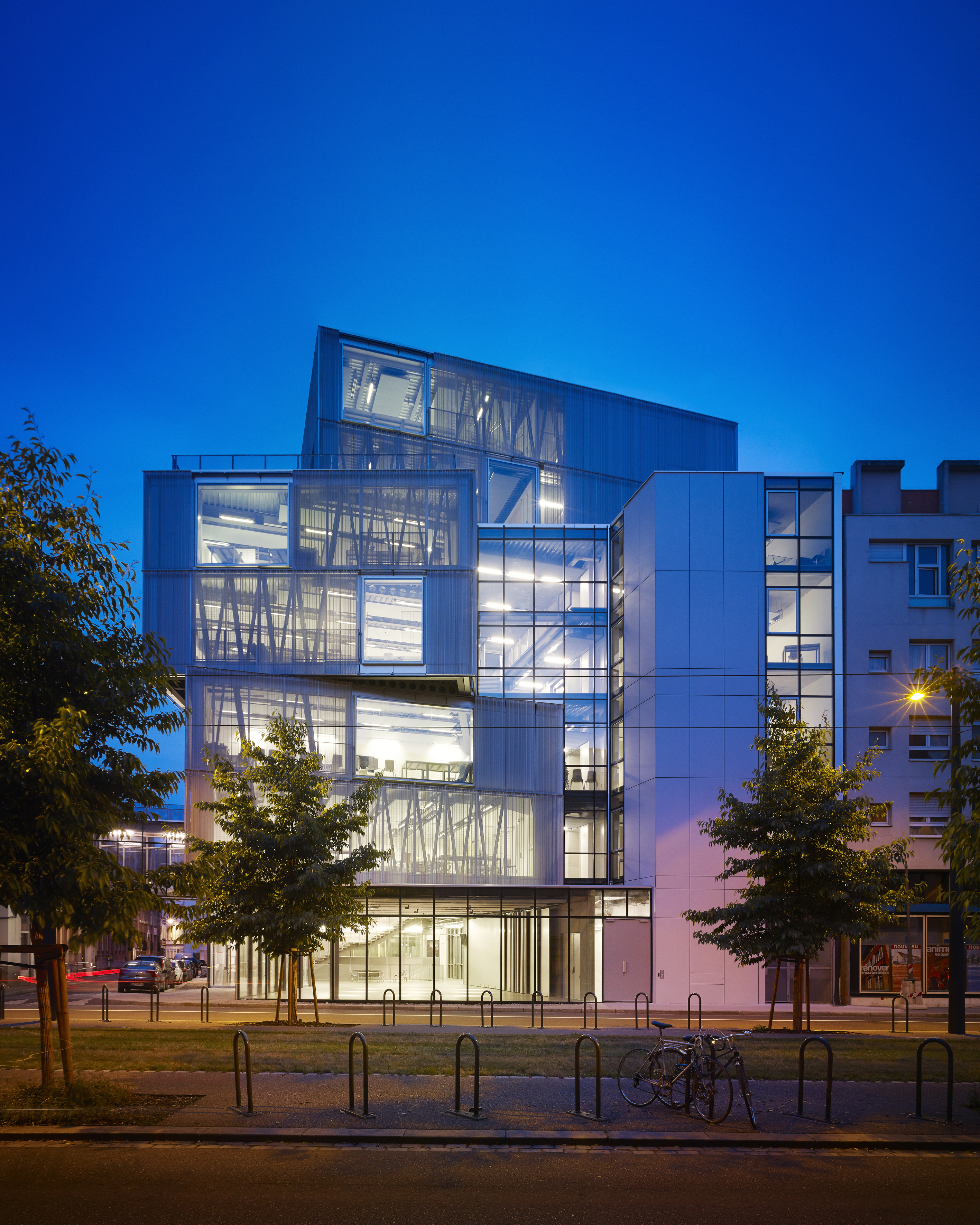 THE GARAGE AND THE FACTORY BY MARC MIMRAM
Former car garage transformed in the 80's by Guy CLAPOT and Yves MORETTI, Le Garage has found the writing of its construction in the 30's. Thus, it is renovated but little modified in its volumes, with the exception of the installation of a library on two levels. Around the library, the building offers several functionalities: workshops and classrooms, administration offices, educational equipment (Photo Laboratory, Digital Manufacturing Workshop, computer room, etc.), but also the Light - Sun Mechanical Laboratory.
The La Fabrique building takes maximum advantage of the regulatory templates. Also, the geometries are based on alignments, the maintenance of the 12-meter and 18-meter templates, the constructible thickness within the 20-meter width, and the recommended recessed attics. The architect Marc MIMRAM thus constitutes three superimposed buildings of two storeys each, housing teaching rooms, behind a metal mesh that filters the light and reveals the load-bearing structure of the building. These three boxes rest on a glass base, voluntarily open to the city, with exhibition space. In the basement, two amphitheaters with 120 and 250 seats further increase the study spaces.
The two buildings are connected by a glass footbridge whose underside is decorated with a work by Pascal DOMBIS and Gil PERCAL. Created as part of the 1% artistic initiative, it is composed of large modules of screen-printed and enamelled glass panels, and is visible to all from the public space. This work is composed of a proliferation of hundreds of thousands of curved lines and uses color in a random way.
A LARGE-SCALE PROJECT
Designed by architect-engineer Marc MIMRAM, the Ministry of Culture's real estate project for the ENSAS, consisting of two buildings - Le Garage and La Fabrique - was entirely delivered in 2016. Twelve years will have been necessary for the completion of this project. A decade during which the needs and functionalities, but also the tools of the architect and the delegated contracting authority, the Oppic, have evolved. With its counterpart La Fabrique, Le Garage offers the 1,000 people who make up the ENSAS a surface area of nearly 8,000 square meters for studies, research, professionalization and internationalization.
Project owner ministère de la Culture, Direction générale des patrimoines. 
Authorized Project Owner OPPIC, Opérateur du Patrimoine et des Projets Immobiliers de la Culture. 
Project management Marc MIMRAM, Architect. Marc MIMRAM Ingénierie SA, ALTO Ingénierie SA, PEUTZ & Associés, BET(s). 
Budget of the operation 29,9 millions euros, with the financial participation of the General Council of Bas-Rhin, the Regional Council of Alsace and the City of Strasbourg.